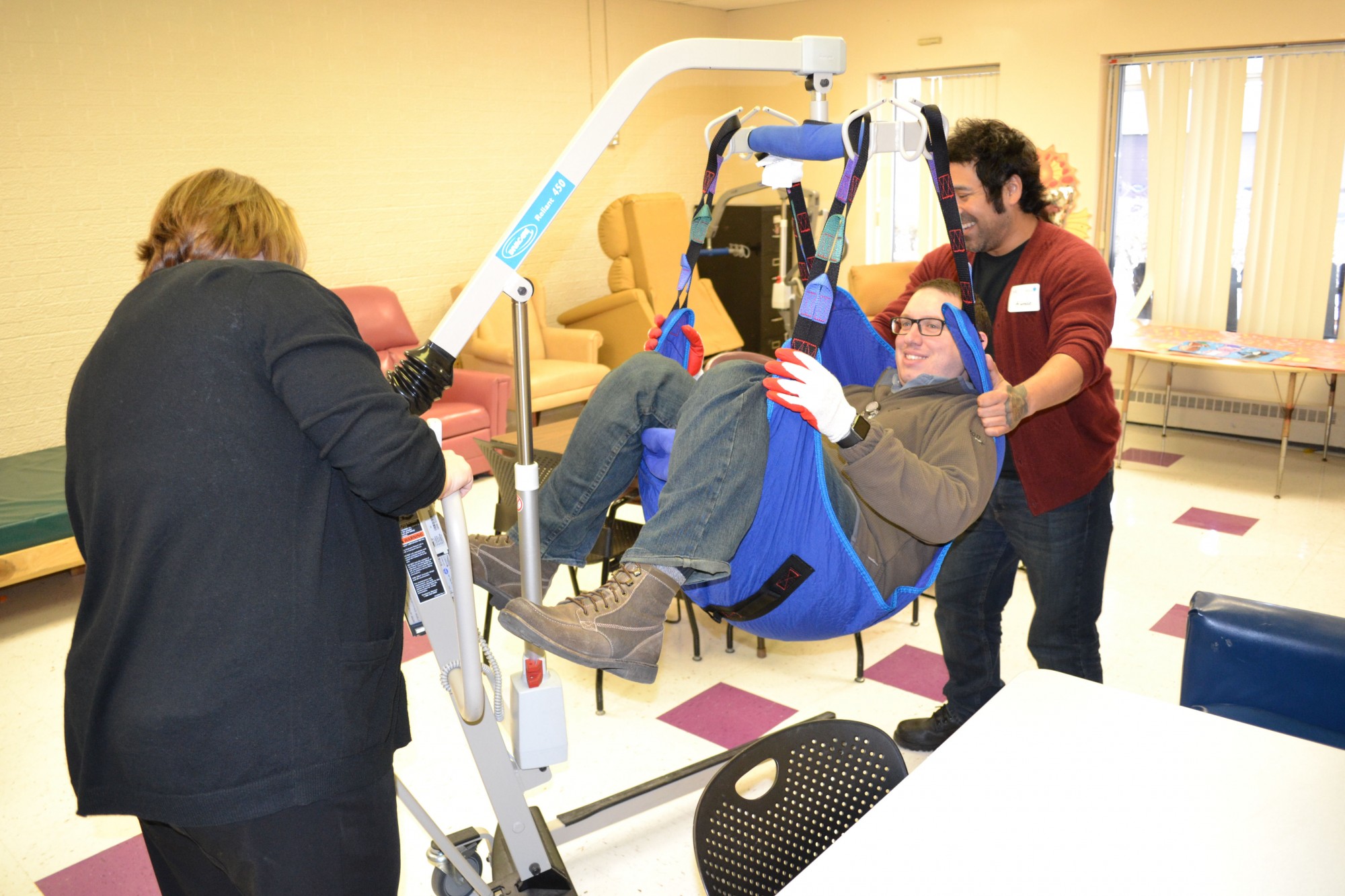 Richland Newhope holds 16th Annual Community Awareness Day
For Immediate Release – March 16, 2017
Contact: Jane Imbody, Director of Community Relations, 419-774-4215 or jimbody@rnewhope.org
Richland Newhope holds 16th Annual Community Awareness Day
(Mansfield, OH) – Twenty-six people representing businesses, schools, and agencies in Richland County Thursday got to experience first-hand what it means to have a disability as Richland Newhope sponsored its 16th Annual Community Awareness Day. The event was one of several activities marking Developmental Disabilities Awareness Month.
The purpose of Community Awareness Day is to increase knowledge and understanding of how a disability can impact someone's life. An even more important goal is to highlight a person's abilities and to show that people with developmental disabilities can be valuable members of the community when given the opportunity.
"People with developmental disabilities work, attend school, volunteer, and play sports just like everyone else," said Richland Newhope Director of Community Relations Jane Imbody. "This event is an opportunity for us to address misconceptions and build awareness about the many different abilities of those we support."
During Community Awareness Day, participants are paired with individuals supported by Newhope, along with a staff member host, and they are given a simulated "disability." Some participants are required, for example, to use a wheelchair, walker, brace, or goggles that impair vision.
The simulated disability activities lasted about two hours and took place in several locations, including: Richland Newhope Industries, Inc. at 150 E. 4th St; Raintree at 721 Scholl Rd.; the Early Childhood Center at 255 Hedges St; Richland Newhope Industries, Inc. at 985 W. Longview Ave.; City Garden Café at 30 N. Diamond St.; Element of Art Studio/Gallery at 96 N. Main St.; and HR Choices at 308 E. Main St., Lexington. The Community Awareness Day event ended with a luncheon where the participants described their experience.
This year's participants are members of the Mansfield-Richland Area Educational Foundation's 2016-2017 Leadership Unlimited class. They were: Amanda Armstrong, Directions Credit Union; Michael Cline, Schmidt Security Pro; Loretta Wade, Haring Realty; Richard Sjostedt, Merrill Lynch; Donna Gilmore, Southern Title; Grant Sluss, Sluss Realty; Clayton Herold, Richland Bank; Andrew Smallstey, village of Lexington; Angie Fanello, Richland Area Chamber of Commerce; Shauna Bradley, Richland Newhope; Jennifer Alt, OhioHealth; Melissa Drozda, Progress Industries; Matt Parr, Pioneer Career & Technology Center; Amber Slone, 179th Airlift Wing; Scott Stover, The National Lime & Stone Company; Brad Cyrus, Gorman Rupp Co.; David Long, Therm-O-Disc/Emerson; Leona Smith, North End Community Improvement Collaborative; Josh Werner, Werner-Gompf Funeral Services; Cynthia Wood, Ohio State University-Mansfield; Mary Frankenfield, Mansfield-Richland County Public Library; Alicia Blackledge, District 5 Area Agency on Aging; Jason Crundwell, St. Peter's Parish; Colleen Cook, Renaissance Theatre; Dakota Durbin, Mechanics Bank; and Christine Myers, Hamilton Insurance Group.
In 2016, Richland Newhope (Richland County Board of Developmental Disabilities) supported more than 1,700 individuals through early intervention, preschool, adult, residential, therapy, transportation and other family support programs.
###
« Back to News Releases