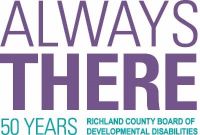 "A developmental and now a sentimental journey "
By Carla Rumas, director of Educational Services and Therapy
Editor's Note: As county boards of developmental disabilities celebrate 50 years, we reflect on the many changes in both programming and attitudes that have happened during that time. We asked Carla Rumas to share her personal observations.
The beginning - In 1970, I had just graduated from college and was preparing to go into physical therapy school at The Ohio State University that fall. I was looking for a job that might be related to my future career and was led to the Columbus State Institute (CSI). They had an opening for an aide in the Therapy Department. I had no clue that this was going to be an eye-opening summer and the field where I would later spend much of my career.
So I started in May 1970 as an aide helping individuals who lived at CSI (now Columbus Developmental Center or CDC) by bringing individuals across campus in their wheelchairs to therapy. On special days the therapy was in a large therapy pool. I loved working with the individuals that received therapy activities that summer. One really bright young man, who was trapped in a body with limbs contracted by the effects of cerebral palsy since birth, even asked me to marry him! I promised to keep in touch after I returned to college. I learned later that, as a result of the de-institutionalization process, he ended up in the Toledo area where his parents were from.
Back to CSI, now Columbus Developmental Center - In 1974, I returned to CSI to develop a therapy program. It was also shortly after the de-institutionalization process had begun in Ohio. CDC had more than 2,600 individuals living there and Orient State Institute had as many, if not more, so I knew that would be a long process.
We met some individuals who were delightful and loved the attention they were getting from the new people on campus. We also met some people who had been there for their entire lives and who had no intention of cooperating with anyone. We entered wards where there were 20-25 individuals who were not dressed, who were incontinent, and had one staff person in a locked office "supervising" them, due to limited staffing.
When I first worked at CSI in 1970, I never had contact with those who had been locked behind closed doors. Starting in 1974 and 1975, because of the de-institutionalization process, we had to see them for therapy evaluations, and we came face-to-face with the ugly truth that, for many individuals and for many years, this was how our society "cared for" individuals with varying levels of disability and mental retardation. Nonetheless, I felt drawn to help them however I could. The other therapy staff felt the same way. In the process of testing the individuals living at CSI at the time, many were found to have normal intelligence, but because they were non-verbal, or deaf, or otherwise disabled, no one knew, and they were abandoned by their families at age 6 at the recommendation of family doctors and other "experts."
I finally left CSI in 1980 to start a private therapy practice that provided outpatient physical therapy services, which included a contract with the Mt. Vernon Developmental Center where we would provide evaluations and help procure wheelchairs for those living at the facility.
Richland Newhope - In October 1992 I joined Richland Newhope as rehab director. Early on there were challenges with philosophy but, with time, things began to be focused again on meeting the needs of individuals and families with children with developmental disabilities. Slowly the shift was made from medical model therapy to the integrated therapy approach inasmuch as possible. This approach incorporates therapy activities with the daily routine, whether that is at home, in preschool, at school, or in adult day-to-day programs. In addition, therapists had to be willing to teach others what they knew and how to implement therapy activities every day, not just on "therapy day."
Early in my career at Richland Newhope, a most rewarding time for me was when I was asked to evaluate a man at one of our group homes. I learned he had been transferred from the Columbus Developmental Center within the last several years. When I went to the group home and saw him, I remembered him from the ward I had visited where no one was clothed, no one was continent, no one was being provided training, and no one was being treated like a human being. This man was now dressed. This man was now continent because the staff had worked to help him learn to use the bathroom, and daily he was going to Richland Newhope Industries, Inc. What a shift in expectations and behavior!
Conclusion – So, if one is expected to learn, is expected to do, is expected to go to school where their friends go to school, is expected to be part of the community, what a difference is seen in the outcome! Over the past 47 years I have seen what happens when we expect nothing other than a roof, some food, and a group shower. I now see individuals that might have been placed in an institution to be warehoused if it weren't for the dramatic changes in attitudes and actions pushing for equal rights and equal opportunities for all.
But we are not done. There are barriers still to be broken and bars to be raised. Start planning early, encouraging families and children to prepare for the best outcomes and plan for the brightest future. Let's see what the possibilities will bring, let's see what comes to light! We all have a purpose and a place in this world. And we will all be better for it!
« Back to Stories