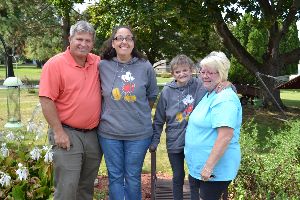 'Foster' mom
(Editor's Note: The following is part of a series of stories about the provider partners that work with Richland Newhope who offer services for people with developmental disabilities in Richland County.)
A few years ago Tammy Staton was working a 9-to-5 job, wishing that she could spend more time with her three grandchildren but still be able to help her household financially.
That's when she met a woman who was working as an independent provider to three women with developmental disabilities.
"She says they go to their day hab or job or whatever during the day, which gives me some space, and then they're home with us in the evenings, weekends, and holidays. And, I'm like – I need to learn more about this," says Tammy.
That was November 2014. By February 2015 she was a certified independent provider. Within five months, Vicky – an individual in her early 60s who needed residential supports – moved in.
"She sat down next to me, looked up at me and said 'can I please come live with you," Tammy recalls.
But she admits there were a lot of challenges the first few weeks – so many that she and her husband, Bill, questioned their decision to enter into a shared living arrangement.
With love and a lot of patience, things got easier and, in the summer of 2016, Melody moved into their home. She came with various health-related challenges that needed immediate attention. Since moving in, Melody has lost 60 pounds.
Weekdays, Vicky goes to HR Choices in Lucas while Melody works at Richland Newhope Industries, Inc. on Longview Ave.
Both ladies have become beloved members of the family and call Tammy and Bill 'mom and dad.'
"They each have their own rooms that look like mini-apartments," says Tammy, who also notes the numerous photos of the pair she and her husband have on their cell phones.
Vicky and Melody regularly join Tammy and Bill for dancing at the Shelby Country Club on Friday nights, breakfast at Golden Corral on Sunday mornings, or even a trip to Chicago where the Statons' son lives.
"We take them everywhere," she adds.
The Statons also have twin daughters, one of whom is physically disabled. In addition, they have a nephew who has autism.
"Bill and I have always cared for somebody," says Tammy. "We know the challenges…I think that kind of gives you a soft spot."
The couple often encourages others to consider becoming a shared living caregiver, telling them it's a way "to enhance yourself financially, mentally, physically and still have time to spend with your family yet give back."
But Tammy and Bill say the best part may be what they get from Vicky and Melody.
"When you hear somebody say my life has never been this good, what else could you ask for?" says Bill.
« Back to Stories