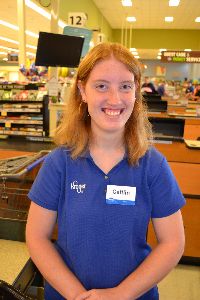 Hard work pays off
(Editor's note: October is Disability Employment Awareness Month. This year's theme is "Inclusion Drives Innovation.")
There are many benefits to having a job.
Besides the obvious – earning a salary – being employed gives you self-respect and dignity. It can change a life.
Caitlin Fisher hasn't let her developmental disability stop her from landing a job that she likes.
The 23-year-old Madison Comprehensive High School graduate started exploring career opportunities in 2013 when she enrolled in Project SEARCH – a one-year, school-to-work transition program for youth with disabilities. She was assigned to the North Central State/Ohio State-Mansfield campus.
"First I did the cafeteria," says Caitlin. "I helped out (cleaning), and I did day care. I took care of the kids. I did the book store as well."
Her mother, Jill Burger, says Project SEARCH prepared a once-shy Caitlin for future employment.
"I think it brought out her personality," Jill says. "She was introverted, quiet, and now she's the total opposite. She loves to talk!"
Before completing Project SEARCH, Caitlin spent a few weeks doing on-the-job training at Kroger on Lexington Ave. In the fall of 2014, she applied at the Ashland Rd. Kroger, which was closer to her home, and she was hired as a bagger.
Once there, Caitlin decided she'd like to move into a cashier's position. But her money skills weren't strong, so she took some classes at Richland Newhope Industries, Inc. (RNI).
After applying several times for the cashier position, her persistence finally paid off and she was hired just before Memorial Day in May.
"I was excited and nervous," she says.
"I feel like Caitlin got this because she proved she could do it, and she kept letting her supervisor know that she wanted it," says RNI Employment Specialist Sharon Murray. "We sent a trainer out to work with her to get her started in her new position and support her into the transition."
That RNI trainer remains available as needed, such as when Caitlin had some trouble knowing the difference between a starter check and a regular, personalized check.
"They look the same to me!" says Caitlin, adding that the best part of the job is talking with customers.
Caitlin works part-time, mainly second shift, at least 20 hours a week. Family members help her get to work, although it's close enough to her home that she sometimes walks.
Eventually, she hopes to get a driver's license and a car – and even move into her own home. When she's not at work, Caitlin enjoys watching TV, going to museums and Cedar Point, and even mowing the lawn. She also spends time with their four cats, three dogs, and two turtles.
In addition, the animal-loving Caitlin volunteers once a week as a horse leader at the Raemelton Therapeutic Equestrian Center.
While she sees herself staying a Kroger for many years, Caitlin admits she would eventually like to get back into child care after studying child development in high school and working in the child care at the NC State campus.
"I like spending time with little kids," she says.
Jill Burger advises other parents to not be afraid of encouraging their son or daughter with a disability to seek community employment.
"Give it a try. It's helped her tremendously since she's been out in the community," says Jill. "I would recommend it to anybody."
She also encourages everyone to learn about all of the resources available to assist those with disabilities in Richland County.
"There are many, many opportunities out there that I don't think everybody is aware of," adds Jill.
Sharon Murray says seeing Caitlin achieve her goals is one of the best parts of her job.
"We are all very proud of her and use her story as an inspiration to others," she adds. "Never give up on your dreams!"
« Back to Stories