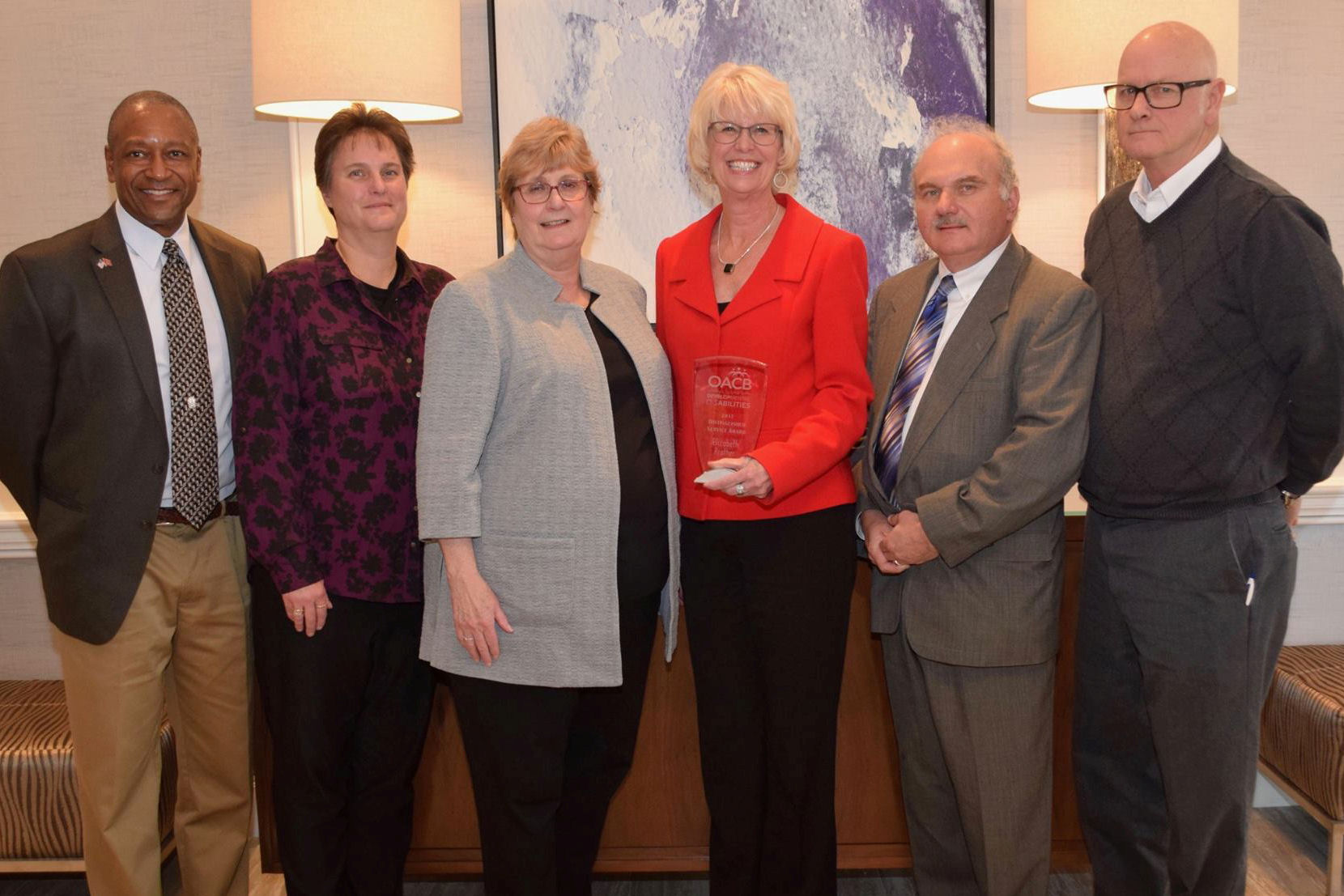 Prather honored with Distinguished Service Award from OACB
FOR IMMEDIATE RELEASE – Dec. 1, 2017
CONTACT: Jane Imbody (419-774-4215) office (419-544-0527) cell jimbody@rnewhope.org Photo attached.
Prather honored with Distinguished Service Award from OACB
(Columbus, Ohio) – The Ohio Association of County Boards – Serving People with Developmental Disabilities (OACB) Wednesday presented Richland Newhope Superintendent Liz Prather with a 2017 Distinguished Service Award during a ceremony at the association's annual convention in Columbus.
Commissioned in 2006, this award recognizes three board members, employees, or volunteers – one from a small county, one from a medium-sized county, and one from a large county – for their outstanding service and commitment to their local county board of DD.
Prather was nominated for the honor by Richland County Board of DD President Nick Gesouras as well as Crawford County Board of DD Superintendent Court Sturts and Butler County Board of DD Superintendent Lisa Guliano – both former Richland Newhope employees.
"Liz has shown on overwhelming commitment to improving the lives of not only Richland County residents but all Ohioans," says Gesouras, noting Prather's more than 35 years of work in the developmental disabilities field and her community service efforts.
Prather has served as Richland Newhope's superintendent for the past 10 years. For three of those years, she also served as superintendent of the Crawford County Board of Developmental Disabilities.
Prather is the former CEO of Richland Newhope Industries, Inc. and Knox New Hope Industries, Inc. She has served on several statewide committees and task forces, including the Superintendents of County Boards' Future Systems Transformation Committee, the Superintendents' Executive Committee, the Ohio Self-Determination Association, and the Ohio Association of Adult Services. Prather has also served as a mentor with the OACB's Superintendent Development Program, and she spearheaded the establishment of Richland County's Project SEARCH program.
Prather is a long-time board member for United Way of Richland County and has been instrumental in creating UW's Big Red Bookshelf effort and its annual Power of the Purse fundraiser. She has also been very active with the Richland County Youth and Family Council, Kiwanis Club of Mansfield, Visiting Nurses Association, Catholic Charities, the Richland Community Developmental Group, and Special Olympics.
Prather plans to retire as Richland Newhope's superintendent at the end of this year. She will be succeeded by Michele Giess, the current director of Richland Newhope's Service and Support Administration.
###
« Back to News Releases