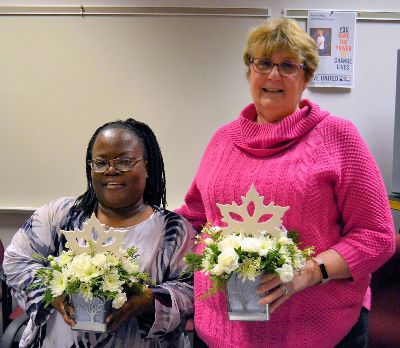 Fond farewell
The Richland County Board of Developmental Disabilities said goodbye in December to two long-time members.
Margaret Davis and Virginia Harmon finished their third consecutive four-year term – the maximum allowed for board members. The Mansfield residents both have children who receive supports from Richland Newhope.
"It's been amazing," said Davis. "I've learned a lot. I couldn't ask to have been on a better board. It was more than a board; it was a family. I'm going to miss it."
"It has been a nice experience," said Harmon. "Having a child, an adult with developmental disabilities, it has kept me informed on all of the policies and things that are changing in the DD world. It was a pleasure to serve on the board, and I look forward to working with it in other capacities in the future."
During her tenure, Harmon served as board president, vice-president, and secretary. She also was a member of the board of trustees of the Ohio Association of County Boards of DD.
« Back to Stories