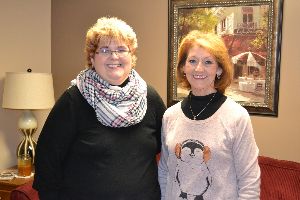 Offering Hope
(Editor's Note: The following is part of a series of stories about the provider partners that work with Richland Newhope who offer services for people with developmental disabilities in Richland County.)
Two long-time local nurses have embarked on a new career supporting individuals with developmental disabilities.
Melody Pitts and Donna Goddard have more than 55 years of combined nursing experience.
The pair decided to retire from their jobs at two local home health care agencies and, in 2015, they started planning for a new agency that would serve individuals with developmental disabilities. On March 1, 2017, they launched The Hope (Helping Other People Excel) Homes.
"We worked together for like 15 years and we said, why not – we're not too old to do this," says Pitts. "I think we both really have a tender heart toward the individuals."
The Hope Homes offers residential services, day habilitation programs, homemaker personal care, and non-medical transportation. It's licensed to operate in Richland, Crawford, Morrow, Ashland, and Huron Counties. They have 16 employees and serve about 30 individuals – a number that continues to grow.
Currently they operate one home for two individuals in Richland County with plans for an additional home. Hope Homes also runs a small day hab for about 10 individuals at a church in Galion, but expects to soon move it to the site of its administrative offices at 770 Lexington Ave. in Mansfield.
Eventually they would like the day hab to expand to 25 to 30 people and include a sensory room and a nurse so they can support more medically-fragile individuals.
Goddard says a person-centered philosophy is their guideline for all of their services.
"To me it's just all about the care…of each individual to try to give them the best opportunities to be themselves," Goddard says.
Pitts points out they are trying to match staff with individuals who have shared interests.
"We are really looking at individualizing (services) so each person has a provider that has somewhat like interests so that they can form that relationship," says Pitts.
"We're always looking for good employees," adds Goddard. "Whatever time they leave their shift, they will walk away with the greatest feeling of reward of taking care of these individuals. That's what we sell with it."
Both also want to do more to help individuals who want to volunteer in the community.
"They need to feel that they are just part of society," says Pitts. "I think anytime we can educate communities and individuals in the communities about how much these people are part of our whole, I think it helps decreases the stigma that so easily gets attached to them."
For more information about The Hope Homes, call 419-775-7695 or send an email to hopehomes4change@gmail.com.
« Back to Stories