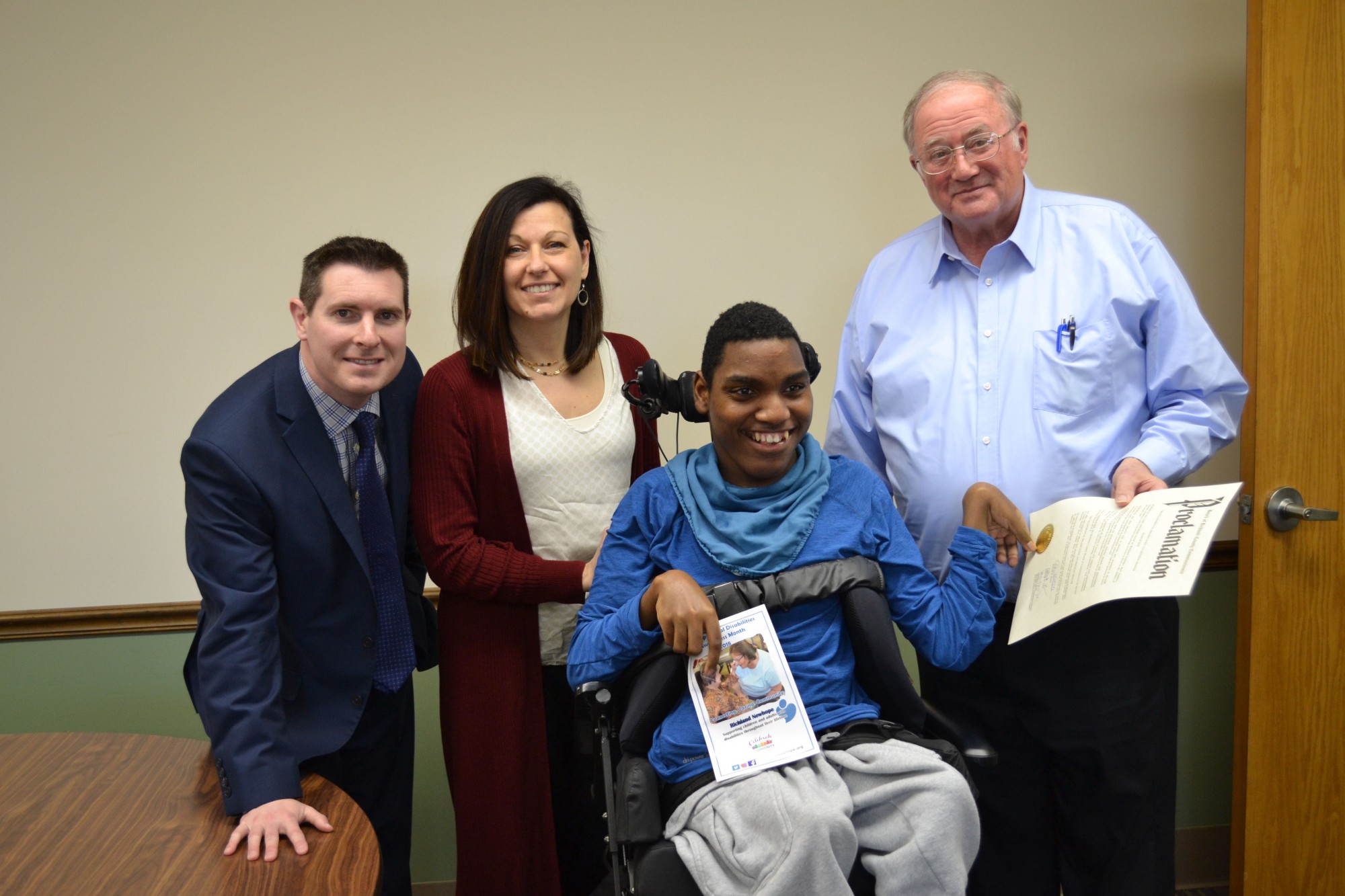 Richland Newhope celebrates Developmental Disabilities Awareness Month
For Immediate Release – Feb. 27, 2018
Richland Newhope celebrates Developmental Disabilities Awareness Month
(Mansfield, OH) - Richland Newhope/Richland County Board of Developmental Disabilities (RCBDD) is celebrating Developmental Disabilities Awareness Month in March and asks everyone to embrace this year's theme, 'Celebrate CommUNITY.'
Statewide, and across the nation, organizations devoted to serving individuals with developmental disabilities are holding special events in March to raise public awareness of the many abilities people have, regardless of disability.
"This year's theme emphasizes our commitment to supporting people with disabilities to be part of our community, whether it's through education, employment, volunteer service, housing, or recreational opportunities," said Richland Newhope Director of Community Relations Jane Imbody.
Richland Newhope kicked off its recognition of March as Developmental Disabilities Awareness Month during the Feb. 27 regular meeting of the Richland County commissioners. A proclamation presented by the commissioners is one of 10 to be issued by local communities through the month-long observance.
Also during the commissioners' meeting, Richland Newhope was presented with a $1,000 check from Schroeders Grain Farm in Shelby. The money will go into the agency's Gift Fund which provides various supports for individuals with developmental disabilities, such as the purchase of wheelchairs and other adaptive equipment.
Among the many activities planned during March is a new event open to everyone. Step Into Spring – a free, fun walk – will be held March 22 at 10:30 a.m. at the Richland Mall in collaboration with Richland Public Health, the Mansfield Y, and the Richland Mall. No prior registration is needed. Goodie bags will be distributed to the first 100 who register beginning at 10 a.m. that day. This will also be an opportunity for individuals and families to get information about Richland Newhope and several provider partners.
Other March activities include: the 25th Annual Richland County Third Grade Coloring Contest Awards Luncheon on March 2 at Richland Newhope's Early Childhood Center; the 17th Annual Community Awareness Day on March 8 at the Richland County Longview Center and several other locations; displays at the main branch of the Mansfield-Richland County Public Library and the Richland Mall; five billboards; and the distribution of nearly 5,600 pamphlets to 62 Richland County churches.
In 2017, the Richland County Board of Developmental Disabilities (Richland Newhope) served more than 1,600 individuals through early intervention, preschool, transition services, day services, supported employment, residential, therapy, and other family support programs.
###
« Back to News Releases