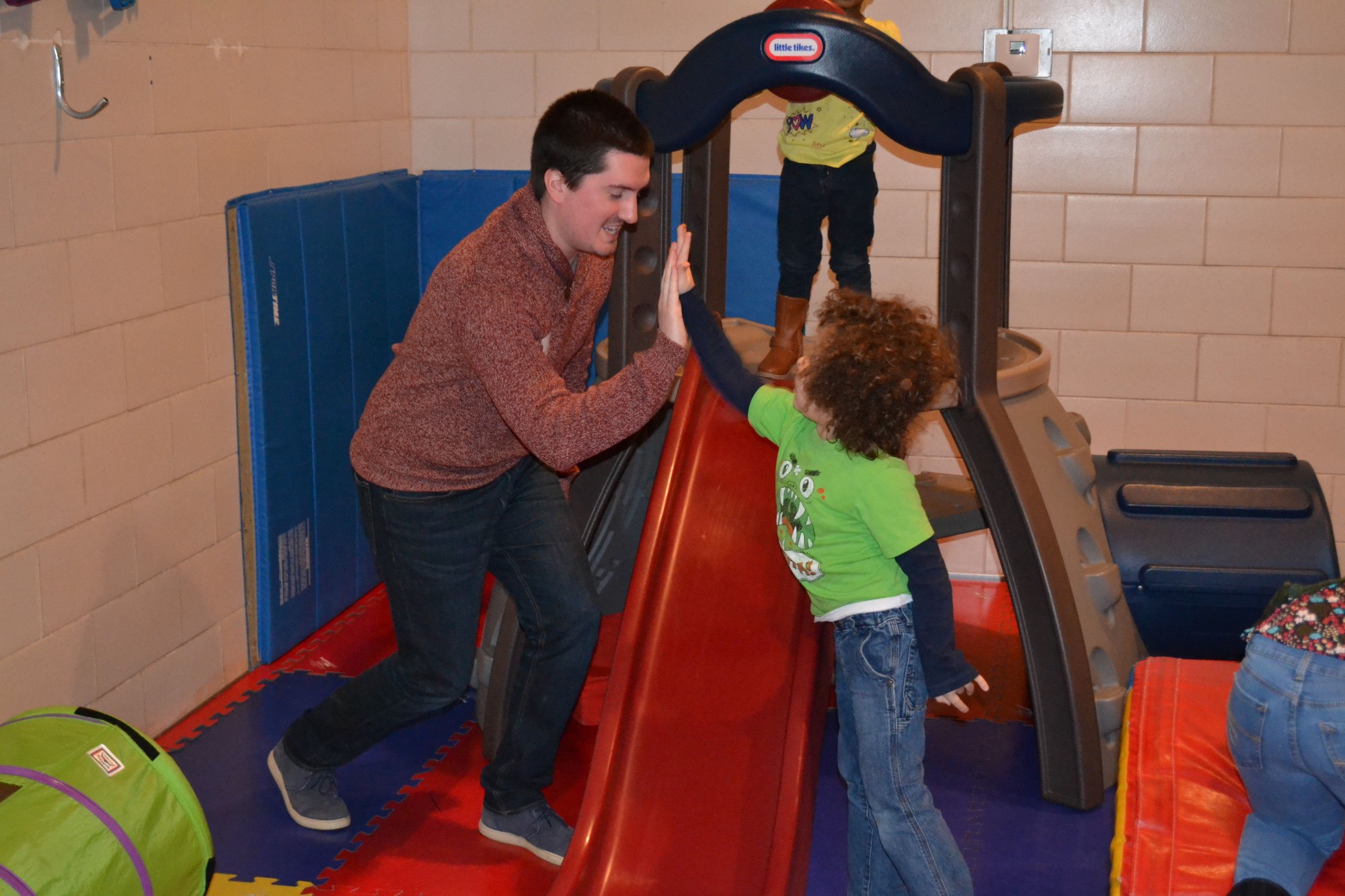 Richland Newhope holds 17th Annual Community Awareness Day
NEWS RELEASE
For Immediate Release – March 8, 2018
Contact: Jane Imbody, Director of Community Relations, 419-774-4215 or jimbody@rnewhope.org
Richland Newhope holds 17th Annual Community Awareness Day
(Mansfield, OH) – Twenty-four people representing businesses, schools, and agencies in Richland County on Thursday participated in the 17th Annual Community Awareness Day sponsored by Richland Newhope/Richland County Board of Developmental Disabilities. The event is one of several activities marking Developmental Disabilities Awareness Month.
The purpose of Community Awareness Day is to increase knowledge and understanding of how people with developmental disabilities are supported in Richland County. More importantly, it serves as an opportunity to highlight a person's abilities and to show that people with disabilities can be valuable members of the community when given the opportunity.
"People with developmental disabilities work, attend school, volunteer, and are part of the community just like everyone else," said Richland Newhope Director of Community Relations Jane Imbody. "This event is a chance for us to address misconceptions and build awareness about the many different abilities of those we support."
During Community Awareness Day, participants first had an opportunity to learn how adaptive equipment can assist people with disabilities in the challenges they face daily. Then they were paired with hosts and taken to several Richland Newhope facilities, provider agencies, and into the community where individuals who receive county board supports are working or attend school.
These locations included: Richland Newhope Industries, Inc. at 150 E. 4th St; Raintree at 721 Scholl Rd.; the Early Childhood Center at 255 Hedges St; Richland Newhope Industries, Inc. at 985 W. Longview Ave.; Element of Art Studio/Gallery at 96 N. Main St.; Goodwill at 2154 W. 4th St.; and HR Choices at 308 E. Main St., Lexington. The Community Awareness Day event ended with a luncheon where the participants shared their experience.
This year's participants are members of the Mansfield-Richland Area Educational Foundation's 2017-2018 Leadership Unlimited class. Those taking part in Awareness Day were: Matt Argo, Cooper Enterprises; Brigette Burnell, Gorman Rupp Co.; Stephany Elgin, Richland Area Chamber of Commerce; Jessica Hiser, Spherion Mid-Ohio; Sam Belsterling, Pediatric Consultants of Ashland & Mansfield; Kenny Maynus, Jr., 179th Airlift Wing; Courtney Cline, Design by Cline; Marsha Madden, Richland Newhope Industries, Inc.; Whitney Schroeder, Massage Matters; Illya Boronka, Mechanics Bank; Seth Cline, Hamilton Insurance Group, Inc.; George Velez, OhioHealth; Scott Young, the Holden Agency; Sherry Minnig, Richland Newhope; David Murray, North Central State College; Holly Williams, Kingwood Center Gardens; Alan Mitchell, Richland County Foundation; Donald Paullin, Pioneer Career & Technology Center; Krystal Hamilton, Ohio District 5 Area Agency on Aging; Abby Hamilton, Mechanics Bank; Joe Armstrong, KeyBank; Mitch Jacobsen, Progress Industries/Catalyst Life Services; Carolyn Muth, Richland County Board of Mental Health & Recovery Services; and Rebecca Owens, Catholic Charities.
In 2017, the Richland County Board of Developmental Disabilities (Richland Newhope) served more than 1,600 individuals through early intervention, preschool, transition services, day services, supported employment, residential, therapy, and other family support programs.
###
« Back to News Releases