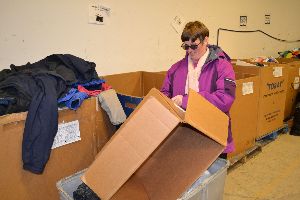 Goodwill helps people become employed
(Editor's Note: The following is part of a series of stories about the provider partners that work with Richland Newhope who offer services for people with developmental disabilities in Richland County.)
In 2017 Goodwill Industries of Akron, serving Richland, Summit, Portage, Medina, and Ashland Counties, helped nearly 9,400 individuals seeking employment with training and job placement services.
The work experience program is one of the training services offered. It was first introduced to Richland County about 10 years ago at a retail site in Ontario and has now expanded to a store on Lexington Avenue. Currently, about 18 individuals are part of the program.
"We use all of our stores as a training site where the participants come and learn the work skills," says Erin Grzegorek, manager of Mission & Career Services. "Our focus is for us to really help someone learn the soft skills necessary for them to be able to go out and get a job in whatever field they would like to pursue."
The work experience program lasts for six months, but it can be extended on a case-by-case basis. Individuals attend up to five days a week, Monday through Friday, from 9 a.m. to 2 p.m.
"We want them to be out in the community as much as possible," says Grzegorek. "For some people working retail isn't their dream…so we want to get them to where they want to be in the job that they really like."
"People do get comfortable with us and become afraid to leave, so we're trying to find that sweet spot of trying to provide a quality service in the amount of time that person needs and not enabling the person to stay just because it's comfortable," she adds.
Marie Doan is the mission manager at the Lexington Ave. Goodwill location or the staff member who supervises those in the work experience program. Doan says the day includes two hours of class time, two-and-a-half hours of paid work, and a half-hour lunch.
The classes range from functional reading and basic math to filling out applications and even proper nutrition to stay healthy so they can work.
The paid work involves tasks related to donations and getting the items ready to be sold in the Goodwill store. This includes helping customers as they drop items off, checking items for rips, stains, and missing buttons, and tagging and placing them on the sales floor.
"I document what they're doing, how well they're doing it, how they're getting along, if they're working at competitive levels, and then I write the reports at the end of the month," she says. "We have meetings every other week so we keep informed on what everyone's doing, how everyone is doing, and how far they're working in their progress with their goals."
Doan tells the story of one individual who first started the work experience program in 2010 and now he's working in Goodwill's retail store and mentoring other participants.
"He's doing really good," she notes. "I'm so proud of him. He wanted the job so badly."
Grzegorek, who has worked for Goodwill for 17 years, has seen a lot of changes during that time.
"Changes in attitude in general from the community and how we act as providers in terms of realizing that these individuals have so much potential and talent to offer," she points out. "Before it was give someone a job because it's the nice thing to do. Now I think that people in the community and those of us who provide services are like give this person a job because they have so much to add to your business."
Goodwill of Akron also has job coaches and job developers who assist individuals to find and maintain community employment. In addition, it operates a summer youth program, which Grzegorek hopes can be expanded to include Richland County in 2019.
She says Goodwill's program is different from some others in the community in that they don't do any med pass nor do they assist with toileting or other personal care. That would require a personal care attendant who would be with the individual just like they might be in a community job.
"We try to mirror our services based on what someone might actually see in the community," Grzegorek adds.
Donations from the public play a large role in providing the employment services that Goodwill offers. They can be dropped off Monday through Saturday from 9 a.m. to 9 p.m. and Sunday from 10 a.m. to 6 p.m. at either the Ontario retail store at 2154 W. 4th St. or the store at 1280 Lexington Ave. in Mansfield.
"Anything that is gently used we appreciate," Grzegorek says.
There are certain items Goodwill can't take, such as firearms, baby beds, car seats, and televisions. But they do participate in a computer recycling program in conjunction with Dell.
For more information about Goodwill, visit www.goodwillakron.org.
« Back to News Releases