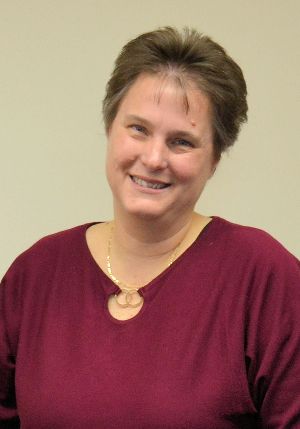 New superintendent worked her way to the top
Michele Giess knows Richland Newhope well. In fact, except for a part-time job in high school, it's the only place she has ever worked.
Twenty-eight years later, Michele is running the agency. In January, she became superintendent – the eighth person to hold the position since the Richland County Board of Developmental Disabilities assumed operations of Richland Newhope in 1967.
Michele, who previously served as the director of the agency's Service and Support Administration (SSA), says she likes to "jump in with both feet" when starting a new position, so the past few months have been very busy.
"I have had the chance to meet with many of the staff and community partners and have spent a lot of time trying to engage with community members, other agency leaders, and elected officials," she says.
"Everyone has been exceptionally supportive as I have made the transition," adds Michele. "As a side note, I think I have finally stopped driving to the SSA building as part of my morning ritual!"
Besides serving as SSA director for the past five years, Michele has held several other positions since first joining the agency just after high school.
Her first job was as a workshop specialist substitute in adult services (Richland Newhope Industries, Inc./RNI). "This started out to be just a temporary summer job to earn a little money before going to college in the fall of 1990," notes Michele. "My college plans changed, and I made the decision to attend the local Ohio State University branch for a couple of years."
Throughout college she continued working at RNI until she eventually graduated from Ashland University in 1996. For the next three years, she held several different positions at RNI until joining the Community Residential Department in 1999.
During her tenure there, Michele held the positions of residential support specialist and the manager of Community Choices and Contracting. In 2003, the Community Residential Department was moved from residential and merged with the newly-formed SSA Department. She took over that department in the spring of 2013.
"Early on in my career people would ask me what my goals were for the future, and I would half-joking say 'I want to be in charge,'" says Michele. "I have always set my goals high and lived by the philosophy that you can make your own future, but you have to put in the work; no one is going to hand you anything just for showing up."
She says she has already learned a lot during her brief tenure as superintendent and has a lot of goals for the future.
"One of my primary goals for the first year is to make a concentrated effort at having an even bigger presence in our community," Michele says. "Now that we are no longer a direct service provider of day services and transportation, we need to make sure that the community still recognizes us as the great organization we are and understands that we still provide a valuable service to individuals with disabilities, their family, and this community."
Michele says 2018 is also going to be a big planning year for the agency, which is now in the third year of a three-year plan. The planning process will focus on the long-term forecast and when Richland Newhope will need to go back to the taxpayers for additional support.
She's also preparing for some big challenges, including many changes at the state level that affect day-to-day business and maximizing the use of limited resources to continue providing services and supports to more people.
"I really can't image working anywhere else," adds Michele. "I have had many wonderful experiences over the past 27-plus years and look forward to many more in the years to come."
« Back to News Releases