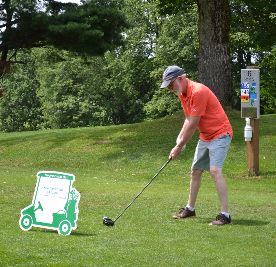 Newhope Charities 20th Annual Golf Outing set for July 20
NEWS RELEASE
For Immediate Release – May 4, 2018
Contact: Jane Imbody at 419-774-4215 or jimbody@rnewhope.org.
Newhope Charities 20th Annual Golf Outing set for July 20
(Mansfield, OH) - The 20th Annual Newhope Charities Golf Outing is coming up Fri., July 20, 2018, at the Pebble Creek Golf Club in Lexington. The cost is $360 per team or $90 per golfer. The deadline to register is July 9. Those who register and pay by June 29 will receive the Early Bird Special discount of $5 per golfer.
The entry fee includes golf, cart, driving range, food, beverages, skins game, proximities, team photo, and a goody bag. For the first time this year, mulligans will be sold. There will be a $5,000 Hole-In-One challenge and a 50/50 raffle.
The golf outing is a four-person scramble. Registration begins at 7:30 a.m. and a shotgun start is scheduled for 9 a.m. There will be a continental breakfast, hot dogs at the turn, plus a dinner and an awards program after golf.
Sponsorship opportunities are available ranging from $100 to $1,000. Raffles prizes are also being sought.
Brochures with details about registration and sponsorships are available at Newhope's administrative offices, 314 Cleveland Ave., Mansfield, or on-line at www.rnewhope.org. For more information, call 419-774-4200.
Newhope Charities complements the mission of Richland Newhope by promoting community events for the dual purpose of community awareness and fundraising. Proceeds from such events go toward supports for individuals served by Newhope and future levy campaigns to ensure continuity and quality of these supports.
In 2017, Richland Newhope (Richland County Board of Developmental Disabilities) supported more than 1,500 individuals through early intervention, preschool, adult, residential, therapy, transportation and other family support programs.
###
« Back to News Releases