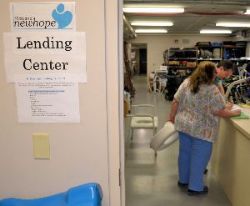 More than a lending center
More than a lending center
Many people may not realize that Richland Newhope operates an equipment lending center.
It began as the vision of former Educational Services & Therapy Director Carla Rumas after visiting homes and seeing unused equipment stored away in closets, garages, and basements.
According to Occupational Therapist Ben Crouch, Carla would ask families if they would like to donate their equipment to allow others to use it.
For several years, the Therapy Department rented storage space for the donated equipment. The therapists would have to schedule a day to get the equipment or return it. Every summer the therapists would spend an entire day cleaning the equipment since it sat in an environment that did not have controlled temperature or humidity settings.
When Richland Newhope purchased the building now known as Foundation Hall to house Service and Support Administration staff, Carla requested some space to store therapeutic and medical equipment and start an equipment lending center. Ben was asked to help organize and be in charge of the inventory.
The first time a piece of equipment was loaned to a family was in 2006. Awareness of the lending center along with donations have grown ever since.
Ben said the equipment lending center has more to offer than just loaning equipment.
"It has the capability for creating some customized adaptive equipment for unique needs," explained Ben.
Some examples Ben has created include an adapted walker with knee support, raised eating surfaces with cutouts for a bowl, a simulated cupboard door mounted at a low level for an individual who likes to open and close cupboard doors, a pediatric mobile Rifton chair with an IV pole attached, and an adjustable pediatric spring loaded bouncy seat for a young girl in Early Intervention.
"The young girl only stayed calm with the constant bouncing motion, and they were not able to install a swing in the apartment," explained Ben.
Ben says equipment is loaned out on a case-by-case basis. First it's available for people who receive services from Richland Newhope. It is also open to people in the community who have no other resources. Schools in the area can also borrow equipment for students with special needs on a short-term basis to see what might work before they purchase the equipment.
For more information, contact the Newhope Therapy Department at (419)774-4290.
« Back to Stories