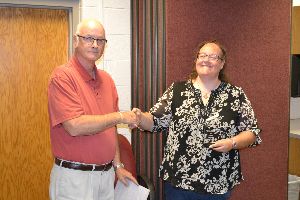 Richland Newhope honors award winner
Richland Newhope/Richland County Board of Developmental Disabilities has selected local resident Emilie Stanley as this year's recipient of the 2019 CARE award.
Emilie received the Direct Support Professional (DSP) award and was formally recognized for her outstanding support to individuals with developmental disabilities during a meeting of the Richland County Board of Developmental Disabilities on June 26.
Emilie is an activity coordinator at HR Choices since 2012.
Two individuals on Emilie's caseload nominated her and cited how she always makes them laugh and have fun; she makes the best of everything.
"Emilie takes us out in the community – we attend various craft nights at several of the local libraries. She introduces us to people we meet when doing activities. It is cool because we often see the same people at the classes and we have made friends with them."
CARE stands for Compassion, Advocacy, Respect, and Excellence. This is the second year the DSP award has been presented.
In 2018, The Richland County Board of Developmental Disabilities (Richland Newhope) served more than 1,600 individuals through early intervention, preschool, transition services, day services, supported employment, residential, therapy, and other family support programs.
« Back to News Releases