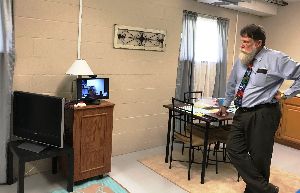 Remote Support Open House a success
Remote Support Open House a success
Richland Newhope's Open House and tour of their remote support demonstration site on June 27 had a great turnout.
People from the community including Newhope staff, providers, individuals and their family members, and Judge Mayer and his staff from the Richland County Probate Court toured the demonstration room and experienced first-hand how the services really work. They also "skyped" with a remote support direct care staff from Rest Assured.
The Open House/tour was to show how technology can allow an off-site caregiver to monitor and respond to safety and needs of people with developmental disabilities living independently in the community.
Director-New Business Development Ken Smith from Rest Assured, the Remote Monitoring provider, also talked briefly about their services and how they work with each situation to create what supports are needed for each individual.
Christopher Collins along with his parents Howard and Carol were guest speakers. Christopher has been using remote support through Rest Assured for the last eight years.
The family shared the journey they went on with Christopher as he moved out of their family home and how remote support has given them the peace of mind they need for him to live successfully on his own.
If you didn't make it to the Open House, Newhope's remote support demonstration room will be set-up at the Foundation Hall Service and Support Administration Building, 220 Home Ave. for the next couple of years. Contact Coor. of Provider Recruitment & Development Mary Dalby at (419) 774-4418 to schedule an appointment for a tour.
« Back to Stories