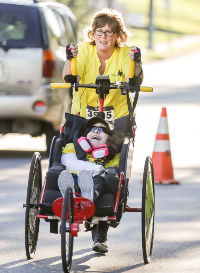 "See us, know us, we are here"
"See us, know us, we are here," is Team No Limits' motto and helps them remember what is really important about their adaptive sports club for people of varying disabilities.
"We want people to see us and know us for who we are as people inside and out – and not just see us for our disability," explained Sherry Minnig, Lead Recreation Coordinator for the Richland County Board of Developmental Disabilities (RCBDD). "In addition, we want to let people know how we are making our mark in this community and others throughout Ohio while educating people along the way about inclusion in all aspects of life."
Team No Limits has access to two running chairs for running and bike races.
"We have been embraced by our local racing community and have been witness to many more positive experiences than we could have imagined," says Sherry.
By the end of 2018 they had competed in 38 5K races throughout Ohio since acquiring the running chairs in the summer of 2016.
So far this year they have participated in two 5K races, one 1 mile fun run, and took part in five parkruns.
Team No Limits started participating in parkruns at North Lake Park in Mansfield this year. It's a free timed 5K run held on Saturdays.
They're racing in one event in Franklin County, two in Union County and one in Crawford County. Their first race of the year was in Allen County.
"The rainy weather this year has been a factor in how many races we've decided we can do," explained Sherry.
They plan on competing in a total of seven more 5K races, two 1 mile fun runs, and two 10 mile bike events before the end of this year.
"The important thing is just getting out in these communities, meeting new people, and experiencing first-hand the world around us," added Sherry.
The club's future goal is to purchase their own bi/sit ski so individuals who receive supports from the RCBDD can have access to ski down the slopes at Snow Trails in addition to the equipment The Adaptive Sports Connection has at that location for its members.
Team No Limits is also working on creating social media pages so people in the community know how they can be a part of their adaptive sports club either as an athlete, a running partner, or a cheer buddy.
« Back to Stories